Gary Hanson
September 13, 1943 – September 29, 2021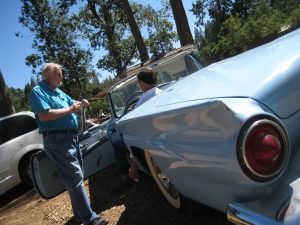 Gary at the 2019 SBE Picnic Showing off his '57 Blue Bird
Fresno, California – Gary N. Hanson passed away peacefully on September 29th, 2021 surrounded by loved ones. He touched so many hearts with his kindness and sense of humor. He was born on September 13, 1943 in Ventura, CA to parents Edmond and Bessie Gayle Hanson.
Gary, his older brother Bruce, and parents moved to Burney, CA when he was young. Gary graduated from Fall River High School in 1961 and went on to earn his BA from Chico State. Gary's son Ricky was born in 1967. Gary later married the "love of his life" Nikkie.
Gary had an illustrious career in many fields throughout his life. He was a reporter for KHSL TV in Chico, CA and for KJEO Channel 47 after he moved to Fresno in 1968. He was producer and director at HCM Teleproductions, and director of video operations for the Fresno Grizzlies. In recent years Gary achieved his lifelong dream of owning a TV station- one in Chico, CA and one in Redding, CA. Gary was also an accomplished drummer and played professionally in many bands throughout his life including: The Rejects, Jim Lyons American Express, Country Revolution, Dr. Maynard Show, Borderline, and Jerry Hobbs Band.
In the 1970's Gary bought a 1954 MG TF- a prized possession that he kept in pristine condition over the years. Gary also loved to travel. Fond memories of "Gram Hanson" taking his brother Bruce and him to Catalina Island made it a particularly special place he'd revisit. He went on many trips with his son Rick, daughter-in-law Elie, and grandchildren Kayla and Nick, and visited Cambria, CA annually with Nikkie and granddaughter Katalina. Throughout their loving relationship, Gary and Nikkie loved to take small trips with their adoring dogs Leo and Lola.
Gary is survived by his wife Nikkie, brother Bruce, sister-in-law Helene, son Rick, daughters-in-law Elie and Helen, stepchildren Rafi and Kat, grandchildren Kayla, Nick, and Katalina, and dogs Leo and Lola. All those who would like to celebrate Gary's life are welcome to join his family on November 8, 2021 at 11:00am at Farewell Funeral Service at 660 W. Locust Ave., Ste. 101, Fresno. In lieu of flowers, a gift can be made to Valley Children's Hospital.