FCC Adds Three EAS Event Weather Codes
The FCC has released a report and order to add three new weather event codes for the Emergency Alert System. The codes are Extreme Wind Warning (EWW), Storm Surge Watch (SSA) and Storm Surge Warning (SSW).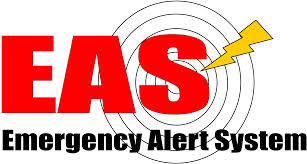 Read the complete report and order at the FCC website.
From the R&O, the FCC will "require EAS equipment manufacturers to integrate these codes into equipment yet to be manufactured or sold, and make necessary software upgrades available to EAS participants no later than six months from the effective date of the rule amendments adopted in this order."
While the new codes will not need to be added to EAS devices until 2017, the SBE has gathered information on adding the codes.
Gorman-Redlich Users Gorman-Redlich will deliver new units with the codes as per the deadline. For existing units, contact the compoany. A new EPROM is likely required.
Monroe Electronics/Digital Alert System Users
DASDEC and R189 One-Net software version 3.0 already supports these three event codes. If you have v3.0, no further action is needed, aside from selecting the codes from the drop-down menu if you want to use them.
Sage Alerting System Users
Sage plans to include the codes in the upcoming 89.30 release. To add the events now, use the "New Events" tab in the ENDECSetD settings program to define the new event code, then include the codes a filter as needed. 
Trilithic Users
EASyCap B4020 software will be updated for the event codes. Users subscribed to the Trilithic Newsgroup will be notified when the update is ready. Starting Jan. 1, 2017, a radio-specific EAS product will be available. There are no plans to update the EASyCast platform. That product platform has reached the end of its service, so unless a large number of users request an update, one will not be released.
Be Prepared for the 2016 National EAS Test
With the pending national EAS test, and the FCC's unveiling of the EAS Test Reporting System, the SBE has prepared this summary of dates and actions of which all stations should be aware.
Aug. 26, 2016
  Stations must complete Form One in the ETRS
Sep 28, 2016, 2:20 p.m. ET
  EAS test
  If circumstances prevent a test on Sep 28, the secondary test date is Oct 5, 2016.
Sep 28, 2016
  By 11:59 p.m. ET, stations must complete the day-of-test report on Form Two in the ETRS
Nov 14, 2016
  Deadline to submit post-test data on Form Three in the ETRS
NOTE: The Sage Digital ENDEC Software Update is now available get it   HERE