Saturday September 21, 2013  12:00pm – 3:00pm
                  
Where's the Beef ?
Although this question has been asked many times before, the answer has always been less than satisfactory–until NOW!
Just ask these two guys: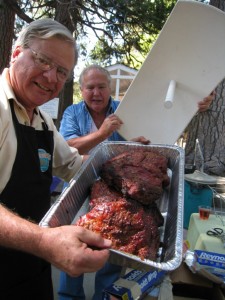 Yes, our own Ken Holden and Pat Fennacy not only know where the beef is, but how to cook it, slice it and serve it. One might wonder how two guys so busy cooking themselves with RF could find time to master the deep-pit BBQ technique.  According to Pat, "I've spent so much time handing out baloney, that Tri-Tip seemed like a natural." Good answer Pat!
Now we finally have the answer to where the beef really is. Find it for yourself by taking the short drive up to the  Meadow Lakes picnic area Saturday, September 21st. Remember, this is an SBE66 family-and-friends event, so you better not be the only one in the buggy on the drive up the hill.  As always, SBE will provide the Tri-Tip BBQ and refreshments, but there's more. That's where you come in. This is a pot-luck event.  Attendees whose last names end in A-K should bring salads and/or side dishes.  Names ending in L-Z should bring dessert items.  It's OK to break the rules if you have a special dessert or side dish you want to bring.  Ice for the drinks is always welcome.  The festivities officially start at noon, but help setting up the tables is always appreciated if you can arrive earlier.  We'll also figure out how to throw in an official SBE66 meeting (short) somewhere along the way.
After you can eat and drink no more,  join the caravan  for a quick tour of your favorite Central Valley Broadcast transmitter facilities.  That, my friends, is no baloney!
See you at Meadow Lakes, Saturday September 21, at Noon.  Don't miss it!