Networked Audio Consoles
A Long and Winding Road
Logitek Electronic Systems,
founded in 1979, manufactures digital
audio routers, audio consoles,
console/router control accessories,
and audio level meters.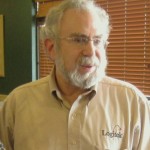 Networked Audio Consoles
have been around for almost 15 years.  Initially introduced as TDM systems, they have undergone their first real metamorphosis to AoIP.  Understanding the benefits and limitations of the various networked system architectures is essential.
   Frank Grundstein, CBRE, CBNT, Director of Sales at Logitek
(pictured on left), will discuss some of the elements of networked systems and how they can affect your selection process.  Recent efforts to standardize the AoIP protocols will also be discussed at the May meeting hosted by Logitek.  Meet Frank Grundstein and see new products from Logitek including JetStream with "Enco Inside"-the first platform to incorporate automation playout running within the platform.  
          

SBE66 May Meeting
   May 30, 2013  12:00PM Lunch
   CLOVIS  HomeTown Buffet
             Shaw and Peach
Hosted by Logitek       Meet in Banquet Room